Sept. 16, 2022
No. 22-13
JUNEAU, Alaska — Alaska's August job count was up 3.1 percent from August 2021, an increase of 10,200. Over-the-year growth has been consistently in the 2-to-3 percent range so far in 2022, although total employment remains well below pre-pandemic levels.
Nearly all sectors were up over the year. The only two exceptions were state government (-600) and information (-100). Leisure and hospitality recorded the strongest growth with 3,800 more jobs than in August 2021.
Oil and gas employment was up 400 from last August, and at 7,200 total jobs was about 1,000 above the pandemic low point of late 2020. Before COVID, the state had around 10,000 oil and gas jobs.
Sectors that have fully recovered include construction, health care, federal government and local government. Leisure and hospitality and oil and gas are the two major sectors with the most ground still left to regain (-3,800 and -2,900 respectively from August 2019 levels).
The state's seasonally adjusted unemployment rate was 4.5 percent in August. The comparable U.S. rate was 3.7 percent.
View data tables and charts (PDF)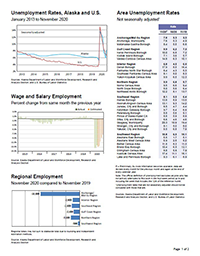 ###