September 17, 2021
No. 21-25
JUNEAU, Alaska — August's job count was up 4.4 percent from August 2020, an increase of 13,600 but still 29,700 below August 2019 levels.
Industries hit hardest last year recorded the strongest gains, although few have recovered their pre-pandemic job levels. Leisure and hospitality added 5,600 jobs compared to last August but remained 10,800 below August 2019. The trade, transportation and utilities sector gained 3,600 jobs over the year but was 6,700 below 2019.
Oil and gas remains one of the few major sectors with lower employment than it had in 2020. At 6,800 total jobs, oil and gas was still 400 below last August and 3,300 under August 2019. Oil and gas employment appeared to bottom out late last year around 6,100.
Local government's job count was down 300 from last August and down 1,600 from August 2019. State government employment was 200 below last year and 900 under 2019. Federal employment was down 1,000 from last August, likely due to last year's temporary hires for the 2020 Census, but up 500 from 2019.
The state's seasonally adjusted unemployment rate was 6.4 percent in August. The comparable U.S. rate was 5.2 percent.
View data tables and charts (PDF)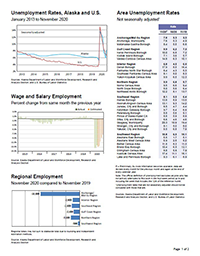 ###