No. 20-41
JUNEAU, Alaska — Alaska's October job count was down 8.8 percent from last October, a loss of 28,900 jobs, as the pandemic continued to keep job numbers well below year-ago levels. Every industry's employment was down except the federal government, which was up 200 because of its temporary 2020 Census hires.
Leisure and hospitality was down the most, with 9,600 fewer jobs than last October (-27.7 percent). The transportation, warehousing and utilities sector had 4,700 fewer jobs (-20.7 percent), mainly in transportation. Oil and gas employment was down 3,000 (-30.6 percent), and the professional and business services sector was down 2,500 (-9.1 percent).
The state's seasonally adjusted unemployment rate fell to 5.9 percent in October, and the comparable U.S. rate dropped to 6.9 percent. Jobs and unemployment insurance claims are better indicators of the state's economic health than the unemployment rate, however, which has fallen in recent months because of difficulties conducting a key household survey during a pandemic and technical issues with the model the Bureau of Labor Statistics uses to calculate the rate. Job losses remain historically large, and claims during the second week of October were about seven times higher than last year. 
The same technical problems rolled down to Alaska's not-seasonally adjusted unemployment rates for boroughs and census areas. Consequently, the October rates suggest more improvement for local economies than unemployment insurance claims and job numbers support.
 View data tables and charts (PDF)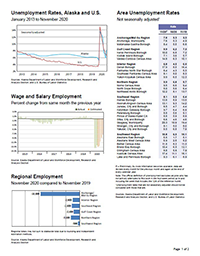 ###